Multiplayer
Der Multiplayer in The Ballad of Gay Tony wird die beliebtesten Modes aus dem Hauptspiel beinhalten, darunter Deathmatch, Teamdeathmatch, Free Mode, Races und GTA-Races. Damit es nicht langweilig wird, stehen neue Waffen, Autos und Fallschirme zur Verfügung. Außerdem wurden die Regeln leicht verändert.
Team Deathmatch & Deathmatch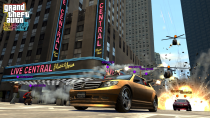 Das Grundprinzip bleibt gleich: Töten oder getötet werden, ob alleine oder im Team. Die Regeln wurden jedoch leicht geändert: Man bekommt nun Geld durch Assists-Kills, und wenn man es schafft, eine Abschussserie von 3-, 5-, oder 10- Kills hinzubekommen, wird man mit extra Geld, Leben und Rüstung belohnt. Neue Waffen und neue Plätze wurden hinzugefügt.
Races & GTA Races
Hier kann man sein Geschick als Rennfahrer unter Beweis stellen. Es gibt nun neue Fahrzeugklassen wie Amerikanische Klassiker und Sportbikes, zudem werden neue Rennstrecken zur Verfügung stehen wie zum Beispiel Tour D'Algonquin, Meadows Park & Ride oder Upper Junction. Man kann seine Autos außerdem mit Nitro ausstatten um den Gegnern davonzufahren.
Free-Mode
Der wohl beliebteste Modus im Multiplayermodus. Es gibt keine Regeln, jeder kann das tun worauf er Lust hat. Ob Basejumping, Stunts oder einfach nur herumfahren, im Free-Mode sind keine Grenzen gesetzt.